Venus Safes
Also available with posting slot.
A utility safe which is specially designed for protection of valuables and limited amounts of cash against fire and burglary attempts. It is ideal for homes, offices and retail shops. With its user-friendly locking-systems, the new Venus Safe offers maximum security and convenience, perfect for modern living.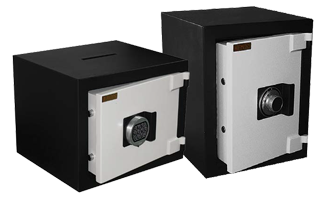 vertical model
horizontal model
w
d
h
w
d
h
external mm
380
414
480
480
414
380
internal mm
282
268
376
376
268
282
Locking Option: Secured by a 3-wheel combination lock, Digital Lock or a 7 lever Germany keylock.
Improved moving boltwork is fitted with 2 fixed boltwork at the rear.
Bolt down facility as an option to further prevent the safe being moved away.
40mm door and body protective thickness.
door protective thickness
40mm
body thickness
40mm
locking
3-wheel combination lock or a 7-lever

germany keylock or lg basic digital

boltwork
improved moving boltwork is fitted

with 2 fixed boltwork at the rear

base fixing
x 2
colour
black body and light grey door
capacity
28 litres
net weigh
100 kg
suggested cash rating
$15,000
shipping dimension
560 (w) x 544 (d) x 640 (h) mm
shipping volume
0.18m 3
gross weight
110kgs
GET IN TOUCH
Phone: 07 3391 4141
Fax: 07 3391 4181
So why not give us a call, you will be glad you did.
Dealing with London Fire and Safe for your safe needs is so simple yet you get comprehensive information and you will always talk to one of our safe specialists based in our Queensland Office.