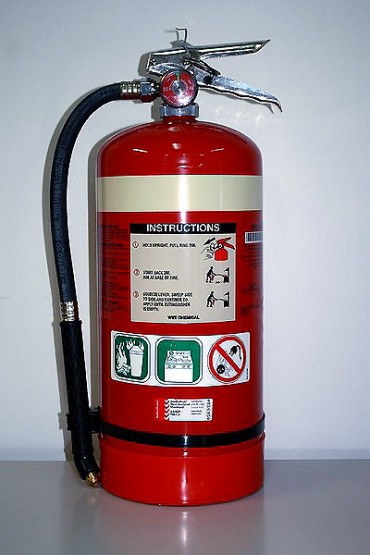 WET CHEMICAL EXTINGUISHERS EXPLAINED
Wet Chemical Extinguishers can be identified by its colour labeling…which is red with oatmeal band.
Especially designed for fat and oil fires (Class F).
Using Saponification agents, it quickly kills the fire and stops re-ignition by forming a thick layer on the fat/oil.
Also suitable for wood and paper fires and also cooking oils and fats. (Class A and Class F).
The best restaurant kitchen appliance you can purchase.
The recent trend towards efficient cooking appliances and use of unsaturated cooking oils dictates the use of a fire extinguisher with greater fire fighting capacity and cooling effect to combat these very hot and difficult fires.
Available in 3.0 Litre and 6.0 Litre sizes.
Again it is recommended that the extinguisher you buy is approved by Standards Australia.
---
WHY BUY YOUR WET CHEMICAL FIRE EXTINGUISHER FROM LONDON FIRE & SAFE?
London Fire & Safe pride ourselves on suppling only good quality fire extinguishers that are Standards Australia approved and are tried and tested in the field.
This way you, the customer know that you are getting a quality product from a team that knows what they are doing.
We can complete the whole job for you from selection, installation to certification.
COME AND SEE US AT LONDON FIRE & SAFE FOR ALL YOUR FIRE EXTINGUISHER NEEDS.
FOR MORE INFORMATION PLEASE CALL US AND TALK TO ONE OF OUR FIRE EQUIPMENT SPECIALISTS