A CONVENIENT OPTION
Because your customers place their trust in you and because what they entrust you with is their valuables, you provide the best for your customers.
Introducing Lion Safe Deposit Lockers. This offers various customisable options to suit your every need.Combined with our Advisory Service to help you plan security down to the most minute details, the Lion Safe Deposit Lockers offer you versatility, while you provide your customers with minimum worries.
After all, the only thing more valuable than what your customers place in the safe deposit, is the trust your customers place in you.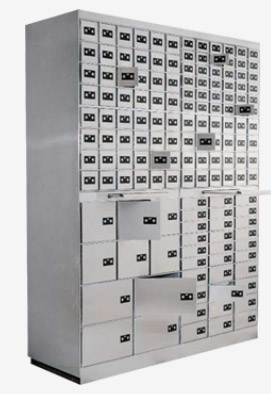 Available in 6 sizes based on a 10 inch module. Modular design and construction to maximise utilisation of space Variable height locker groups to suit the internal height of the vault, made up from sections each 600mm in depth.
Pull-out shelf is optional with each group. To complete each group a plinth and cornice is included in either stainless steel or painted finish.
Locker doors made from 10mm thick steel including the stainless steel cover plate wrapped around 3 edges. The door is mounted to the body by a full height external hinge in bright chromed finish.
The lockers are secured by a high security double changeable keylock with renter's keys in duplicate. This unique mechanism allows both the guardian's and renter's keys to be changed, to the exclusion of all others. This results in considerable savings in inventory costs.
When locker groups are relocated from one location to another, there is no necessity to replace the locks, which otherwise can compromise key security.
So why not give us a call, you will be glad you did.
Dealing with London Fire and Safe for your safe needs is so simple yet you get comprehensive information and you will always talk to one of our safe specialists based in our Queensland Office.