Fire Extinguisher Service
WHAT IS THE REQUIREMENT FOR FIRE EQUIPMENT SERVICING?
DO I NEED IT DONE?
Our Service teams have the expertise to check, maintain, refill and ensure your equipment is fully compliant with government regulations and more importantly work when required.
Fire Extinguisher Service
Even though no one entertains the idea of using a Fire Extinguisher, but in order to ensure that the Fire Extinguisher works properly when needed, it is necessary to have it inspected after every sufficient interval of time. There are few guidelines that should be followed in order to have Fire extinguisher service work all the time.
A compulsorily 6 months interval inspection for all fire extinguishers. And if they don't have a pressure gauge, they may need to be weighed to check they are still full.
Some may require additional fire extinguisher service tasks to be carried out annually.
Extinguishers need to be emptied, pressure tested and refilled every five years.
There may be other fire extinguisher servicing requirements at 3, 5 or 6 years.
The fire extinguisher testing intervals are to be recorded on a label or metal tag attached to the unit.
No other work is required, provided that the visual inspection of the extinguisher shows that it is in a serviceable condition, unless the gauge indicates the unit is under pressure or the weight is too low. Any additional fire extinguisher maintenance required must be approved by the client before being carried out.
In addition to the guidelines issued, our Fire Extinguisher servicing technician also checks the following:
Extinguisher mouth is not blocked by any equipment, coats or other objects that could interfere with the discharge at the time of emergency.
The pressure is at the recommended level. On extinguishers equipped with a gauge (such as that shown on the right), the needle should be in the green zone - not too high and not too low.
The nozzle or other parts are not hindered in any way.
The pin and tamper seal are intact.
There are no dents, leaks, rust, chemical deposits or any other signs of wear & tear. Cleaning off any corrosive chemicals, oil, gunk etc. that may have deposited on the extinguisher.
Some Frequently Asked Questions.
Yes, it is a legal requirement that the equipment be serviced in accordance with the regulations.
At present Authorities are able to issue fines for breaches of the regulations. The fines range from $375 up to $1875 per offence.
New staff must be trained within 2 days of starting and general evacuation and first response training done every 24 months and an Evac (wardens etc) every 12 months as long as the wardens (evac team) remain unchanged.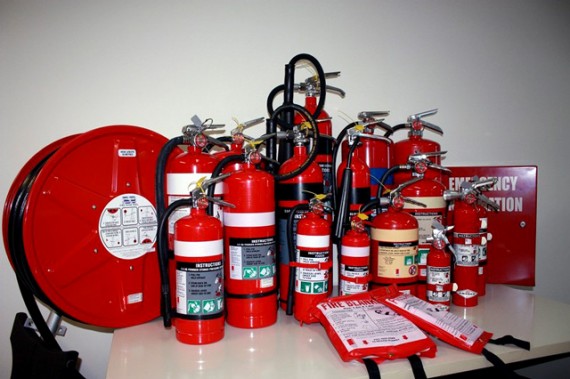 COME AND SEE US AT LONDON FIRE & SAFE FOR ALL YOUR FIRE EXTINGUISHER NEEDS.
FOR MORE INFORMATION PLEASE CALL US AND TALK TO ONE OF OUR FIRE EQUIPMENT SPECIALISTS
GET IN TOUCH
Phone: 07 3391 4141
Fax: 07 3391 4181